Chemical Peels have been used for decades to revitalize and resurface skin. They involve applying a chemical solution to remove the damaged outer layers of skin and reveal a younger, clearer, more radiant complexion. Chemical peels are traditionally performed on the face, hands, neck, back and shoulders, legs and other problem areas to treat fine lines, wrinkles, age spots, acne, and skin discoloration.
J.Bauman Salon proudly offers medical grade chemical peels as quick and convenient ways to enhance appearance and self confidence, and get a healthy glow with little to no downtime. Our skin care therapist has been professionally trained and certified by PCA Skin to administer chemical peels and design a home-care regimen to suit each client's individual needs and skincare goals.
PCA Peels
PCA Professional™ chemical peels are gentle, non-toxic, light to medium range peels that dramatically promote cell renewal resulting in smoother, tighter, clearer, brighter skin. By stimulating collagen and elastin production in the skin, sagging, wrinkling, and other visible signs of aging are greatly reduced. PCA peels are a safe and highly effective treatment for many skin conditions including acne, rosacea, fine wrinkles, aging, scarring, sun damage, hyperpigmentation, dehydration, and uneven skin tone. Often referred to as "lunchtime peels," these treatments result in little to no downtime, allowing you to immediately return to your normal routine.
PCA SKIN chemical peel solutions consist of well-tolerated, safe and effective peeling ingredients. Alpha hydroxy acids (AHA), beta hydroxy acids (BHA), trichloroacetic acid (TCA) and retinoids are used in strategic combinations to address a wide variety of skin concerns.There are different types of PCA chemical peels that are designed to address specific skin conditions.
PURCHASE 5 TREATMENTS AND RECEIVE THE 6th ONE FREE: Our skin peel treatments may be purchased separately or in a series of six. When purchased in a series of six, upon advance payment, you pay for five treatments and receive the sixth treatment at no charge.
PRE-PEEL CONSULTATION: Prior to a peel, it is highly recommended that you make an appointment for a 15-30 minute complimentary consultation where we take an in-depth look at your skin to customize a skin care plan to meet your needs.
PRE-PEEL SKIN CARE KIT: Whether you choose to have a Pre-Peel Consultation or not, it is recommended that 14 days prior to a peel you begin using a PCA Skin Care Kit which contains all of the products needed to prepare your skin for a skin peel with more predictable and maximum results.
*Your first peel includes a Post-Peel at-home care kit (a $20 value).
BEFORE AND AFTER PHOTOS:
http://pcaskin.com/before_after.aspx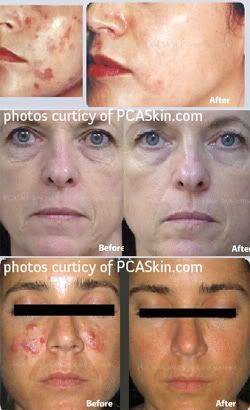 PCA Peel® Exfoliating Treatments
These patented and proven light-to-medium depth peel formulas effectively exfoliate, bleach and inhibit pigment production. Formulations containing high concentrations of salicylic acid help slough off dead cells and debris while stimulating the skin's natural renewal process. These peels help repair and reduce breakouts, control oil, soften lines and provide a more even, smooth skin texture. PCA Peel® Exfoliating Treatments are available in the following three formulas:
PCA Peel® HQ Free Exfoliating Treatment
This peel is ideal for more sensitive skin types (ethnic skin) or those allergic to hydroquinone. This peel will help to unclog pores, clear acne and rejuvenate the skin. It is also an excellent choice for maintaining even pigmentation and correcting pigment discolorations for those with hydroquinone sensitivities.
PCA Peel® with Hydroquinone Exfoliating Treatment
This formula is for those who want even skin tone and have no sensitivity to hydroquinone. It will also help to correct melasma, sun damage and pigment discolorations of any kind. In addition, this peel will inhibit active acne and correct post-inflammatory hyperpigmentation (brown-spotting) from acne.
PCA Peel® with Hydroquinone & Resorcinol Exfoliating Treatment
This peel is the most potent formula of the PCA Peel® treatments. It will provide more exfoliation for oilier, thicker and resilient skin types. It is effective on extremely sun damaged and thickened skin. It is also excellent for those with active/cystic acne and asphyxiated skin (dry on the surface, oily underneath).
Ultra Peel® I Exfoliating Treatment
Specially formulated to treat dehydrated, maturing skin, Ultra Peel® I is appropriate for all skin types, conditions and sensitivities. Ultra Peel I will also help treat smokers skin, pigment disorders, sun damaged skin and acne. The treatment is especially ideal for sensitive skin, as it produces only a mild tingling sensation. Moderate to aggressive exfoliation will be experienced, depending on the number of layers applied. Overall, the final result will be plump, hydrated and ultra-soft skin.
Ultra Peel® II Exfoliating Treatment
Ultra Peel® II may be used alone or on top of any other PCA peel, producing a lightening, tightening and brightening effect. It is a cream mask containing natural hormones which plump, hydrate and moisturize aging skin. The vitamin A content helps increase cell turnover to keep skin looking fresh, while vitamin C strengthens the skin by helping to increase the skins collagen and elastin network. Ultra Peel® II works well on all skin types and conditions.
Sensi Peel® Exfoliating Treatment
Sensi Peel® was formulated primarily for all sensitive skin types. The solution contains a blend of L-lactic acid and trichloroacetic acid (TCA) in addition to plant-derived progesterone precursors which leave the skin feeling plump and hydrated. Kojic and azelaic acids also provide anti-acne and antibacterial properties. It targets patients that want gradual lightening, but instant tightening. Sensi Peel® is excellent for helping to calm rosacea, as redness and inflammation subside substantially after treatment.
Pumpkin Peel BETA-C Mask Treatment
PCA Professional™ Pumpkin Peel Treatment is a powerful antioxidant treatment that brightens and rejuvenates the skin. Pumpkin contains the highest concentration of salicylic acid of any plant, which provides the Pumpkin Peel Treatment with potent skin smoothing and pore clearing action. It also offers more than 100 beneficial components including the highest concentration of vitamins A, C and beta-carotene found in any other fruit or vegetable.
The treatment has simultaneous actions; it exfoliates and draws impurities out of the skin while introducing vitamins, enzymes and nutrients into the skin. This is an excellent treatment for smokers as it stimulates circulation, promotes healing and provides vitamin nutrition. This treatment is also great for smoothing the skin, as the naturally occurring salicylic acid in pumpkin removes the dead surface cells that cause rough texture. The skin will have a healthy glow following this treatment.
Oxygenating Trio Treatment
The Oxygenating Facial Trio is an antioxidant therapy designed to correct and prevent free radical damage. Oxidative and environmental damage is one of the more significant contributors to the aging process. The Oxy Facial Trio helps stimulate respiration and circulation within the skin. It promotes healing and rejuvenates sluggish, tired skin depleted by toxins, pollutants, allergens, improper diet and solar damage. Acneic conditions also benefit greatly as bacteria responsible for acne cannot live in the presence of oxygen. This treatment is recommended between peel treatments or when exfoliation or flaking is not desired.
Ideal before a special event, the Oxygenating Facial Trio is an active treatment that draws oxygen to the skins surface, producing a rosy flush and a rapid warming sensation.
Esthetique Peel
Esthetique Peel is effective for treating all skin types and conditions, and is perfectly suited for extra-sensitive skin including rosacea. Its advanced formulation of L-ascorbic and L-lactic acids, L-retinol, and a host of polyphenols, antioxidants, vitamins and humectants, smoothes, tightens and improves the texture of the skin, while helping to correct myriad common skin concerns.
Clarifying Mask
Clarifying Masks blend of 20% salicylic acid with natural antibacterial and anti-inflammatory agents makes this an ideal choice for helping to improve acne, breakout prone skin and sluggish, dull complexions. It brings new brightness and freshness to the skin. Clarifying Mask is appropriate for all skin types except for hypersensitive conditions.
Detox Gel for Oily/Problem Skin
Appropriate for oily skin and/or acne. The addition of natural glycolic acid from rhubarb makes it especially effective for treating anyone with excessive oil production. This treatment is appropriate until oil production is under control. Detox Gel for Normal/Sensitive Skin may be applied thereafter.
Detox Gel for Normal/Sensitive Skin
Appropriate for breakout prone skin and mild acne, and may be used on all skin types. The addition of natural L-lactic acid makes this a great treatment for improving skin texture and clarity, while keeping the skin moist and hydrated. This treatment is a gentle, deep-pore cleanser.

Please follow and like us: